The original and still the best after 30 years.
If mosquitoes, flies, midges or other flying insects are bothering you, our magnetic insect screens are one of the most cost-effective ways to protect your home. While fixed or sliding mozzie screens are common, they simply aren't suitable for casement, hoppers, aluminium windows or shutters, or double hung windows, like those found on Queenslanders and other traditional Brisbane homes.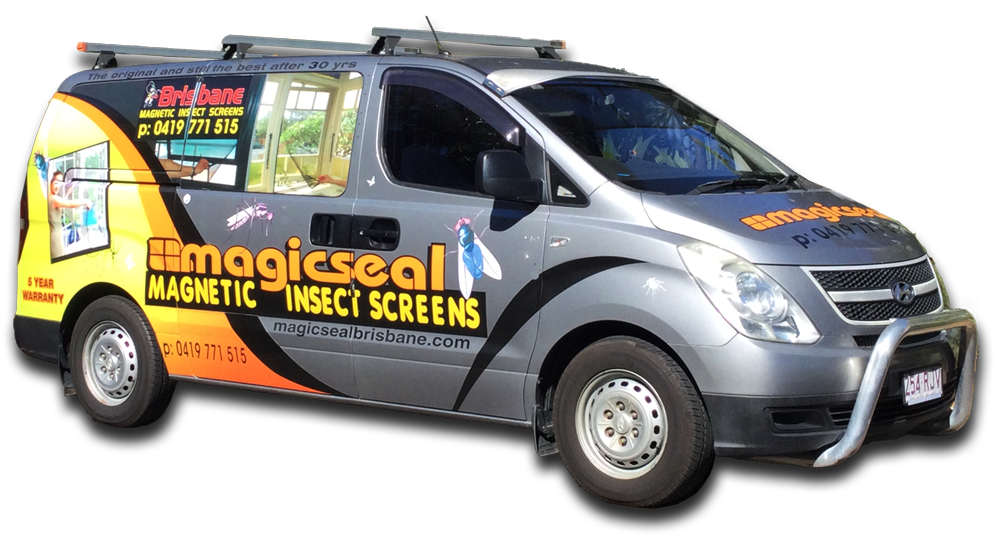 How do Magnetic Insect Screens Work?
Magic Seal's insect screens stay in place with magnetic seals, but can be easily removed to access the window behind. Simply peel back to open or close your window! You can keep flying insects out without having to change your windows, at a much lower cost. Shutters on windows and doors can also be screened.
We measure, build and install the frames and screens ourselves. Ours are very unobtrusive and blend in with the window frame with our many choices of colours. The way they are installed, you can hardly see them — you want to look at your view, not screens. Arched windows? Irregular shapes? No problem with Magic Seal screens which are custom made to suit.
Great for casements, hoppers, double hung windows, our screens don't buckle like your aluminium frames every time you try to get them out to clean them. The best part about magnetic insect screens is they just peel off — you can take them to the bathroom or outside to hose down to clean, and then put them straight up again. It's that simple.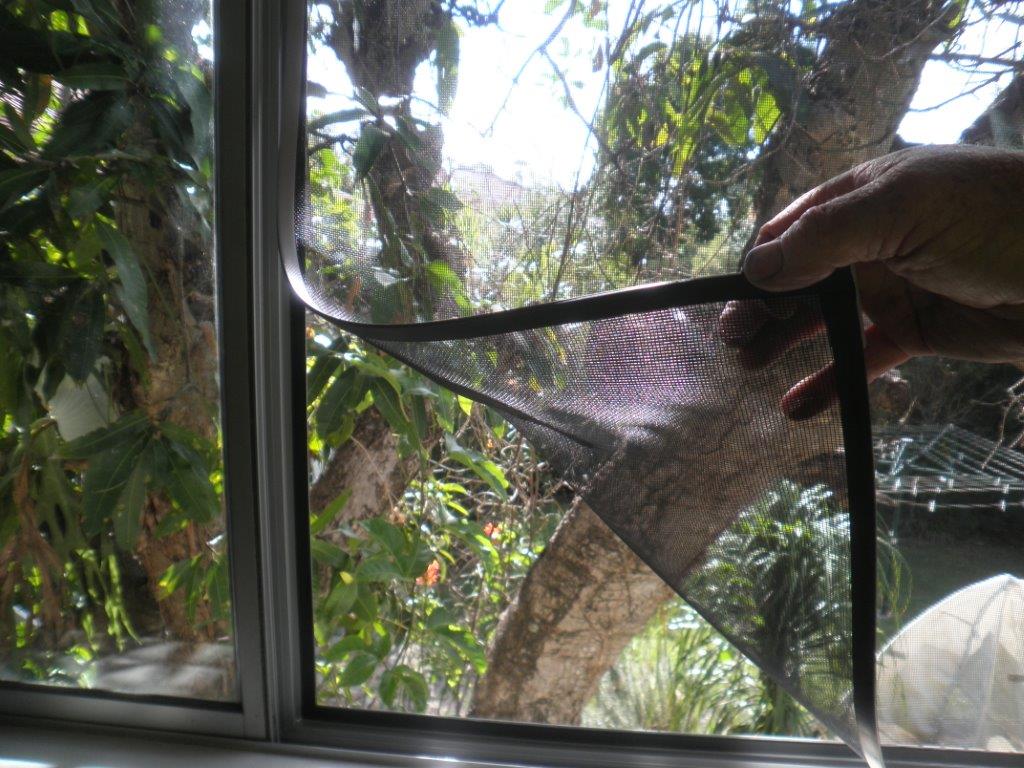 Advantages of Magnetic Insect Screens
Snaps automatically back into place when released
No gaps — perfect magnetic seal all round keeps out spiders
Ideal for leadlight and feature windows — slim colour-coordinated border is almost undetectable when in place
Instantly removable — fully washable
Ideal for security bars or grilles
Custom made to suit your windows — almost any shape or colour possible
Ideal for windows high above the ground — safe and easy cleaning from inside your home
Suits all window frame materials — timber, aluminium, steel, PVC etc.
Testimonials
I didn't think I could screen my casements windows and shutters but peter and Denise advised me and I am extremely happy with the quality of work and product and their very friendly and professional attitude, I could not fault their work and would recommend to anyone who has hard to screens windows and doors and shutters etc.

J. Mortensen
Great looking screens my husband was against screens over his precious leadlight windows but once installed he walked into room and could not tell they were there, now he is over the moon.

Mrs Harrison, Banyo
I found it hard cleaning my old security grills amplimesh and peter and Denise took old mesh out and renewed with magnetic insect screens, now all I have to do is take screens off and hose down and I can get at both side of security grills to clean and pop back screens to look nice an fresh, very easy, would recommend these guys without hesitation.

Mrs Caulfield, Brackenridge
I WOULD RECOMMEND THESE GUYS, Denise and Peter, as nothing is to much for them to do and recommend others if they can't do it. They go over and beyond to help in everyway they can. I have had these screens before from someone else but when I see the quality of Denise and Peter's work it's no comparison to the others, they are a bit of characters as they have worked together for over 20 years, but complement each other very much. So if you need perfect work and workmanship on these older windows these guys are the ones.

C.J.
Easy to use and clean and they removed old stays and repositioned them so I would not have to get new ones and putty in old holes, there was nothing they would not do for me great workmanship.

Mr Hackett, Windsor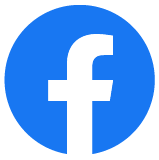 Contact Us